Blog
>
ppc
A PPC Professional Uses the code - Part 2 - Fury Road
Adam Bullock

• May 9, 2018

• 2 minutes to read
DAY ONE. The FIRST DAY and I can relate to Furiosa.
I've spent some time already in the interface (I even found you, my fellow digital marketer, the best sorta hidden Google Ads Experience™ report, so it's not like I'm jumping in blind.
But it sort of feels that way.
Case in point: I needed to ensure all the ads for a client for a particular landing page were paused. OKAY...okay...where's the "Ads" tab? Where... is... the ... OH, it's called "Ads & extensions." Okay, that "e" isn't capitalized, and it kind of annoys me, but okay. Just like the old interface, it defaults to ad text so I have to change it to "Final URL" instead. Ahhhh, now this feels like home.
I clicked on an ad and was greeted with this message:

WHAT, HOLD UP. The new Google Ads Experience™ includes VERSION HISTORY for paid search ads!?
What else have I been missing!?
Google Analytics Metrics in Columns
APPARENTLY GOOGLE ANALYTICS METRICS CAN BE ADDED TO THE COLUMNS.
This is my biggest reason why I wasn't using the new Google Ads Experience™. I ensure we have Google Analytics linked up to our paid advertising to ensure quality visitors using client budgets.
It's here! They've added it!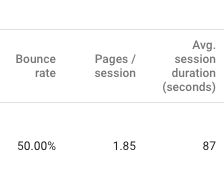 Because, the day after I wrote "What else have I been missing!?" this magically popped up. I'm going to try it again: What else have I been missing!?
Default Columns? What Default Columns?
It's been pretty smooth sailing over the past couple of days. That is, until I have to log to all my accounts every morning.
I can't specify my custom columns to be the default columns!
Okay, this might be a little nitpicky...but I guess I took it for granted with the old interface.
The King is Dead, Long Live the King
It's happening. Google announced the new Experience™ was replacing the current interface by "the end of the year." However, within the article itself, they mention it won't happen in November or December so it's actually happening by the end of October.
SO, the end of week one... and the time of change is in sight. Will things improve over the course of the next week? Tune in and find out!