5 Google Analytics Features for High-Quality Analytics
Larry G •
December 13, 2022 •
4 minutes to read
In the digital world, there are two barriers: consumers who desire privacy and do not want their actions in programs tracked; and developers who want to make money (collecting cookies). On the other hand, marketers want to know all they can about their target demographic, including which channel affected the purchase decision.
Users surf the site on many devices and browsers for too long before making a purchase decision. These acts are captured by Universal Analytics as though various persons performed them. Assume you have invested in a target and that requests come from a direct call. Because the numbers are wrong, there is no clear sense of where the conversion fell from.
We are aware of this distinction and recognize the importance of paying attention to tools with new functionality. This attention to new functionalities helps determine which advertising channels are efficient and which are not, saving clients money.
Let's look at how Google Analytics 4 (GA4) can help you acquire high-quality data. Let us explain why it is important to consider employing this technology now.
GA4 uses internal IDs rather than cookies.
GA4 employs a single tag that transmits information to all of Google's marketing and analytics platforms. No additional settings are required because GA4 utilizes Cookies in this situation. This allows us to obtain analytics without making extra motions.
We anticipate that Google will abandon User ID and exclusively utilize internal device and browser IDs in the near future. Google Analytics 4 enables IP anonymization by default and does not allow you to alter this parameter.
The Google Analytics 4 paradigm focuses on events rather than sessions.
GA4's significant figures are the user and events (event-based and user-based architecture). All user activities are considered events in this context. They assist us in determining where and under what conditions a specific event occurred.
You may switch event tracking on and off separately in the settings. A conversion on a website or application can be any user activity, such as submitting an application, subscribing to a newsletter, or purchasing a product. You may specify the precise conversion for yourself in the options. A significant advantage of GA4 is that the report will contain as many conversions as target actions accomplished in a single session.
Your typical client, for example, arrives at the site via contextual advertising. He first selects and orders a chandelier, and then he recalls that he needs to get another table light. If a user submits two orders in the same session, the GA4 report will display two conversions, and Universal Analytics will show 1.
When calculating web statistics, special considerations are given to page views. The parameter contributes to the calculation of bounces, session length, page view duration, and other metrics.
GA4 records the user's whole route.
Cross-platform user identification works well, implying that the system connects user sessions from different devices and browsers at different times.
For example, if you went to the site today from a mobile device, then a few days later from a desktop, and then a few days later from the application, GA4 will recognize all of these sessions.
You might also have a landing page and numerous pages linked together. If one user makes a purchase on them, these activities will be associated with that person.
All of this increases data quality and results in a single report for the complete customer experience.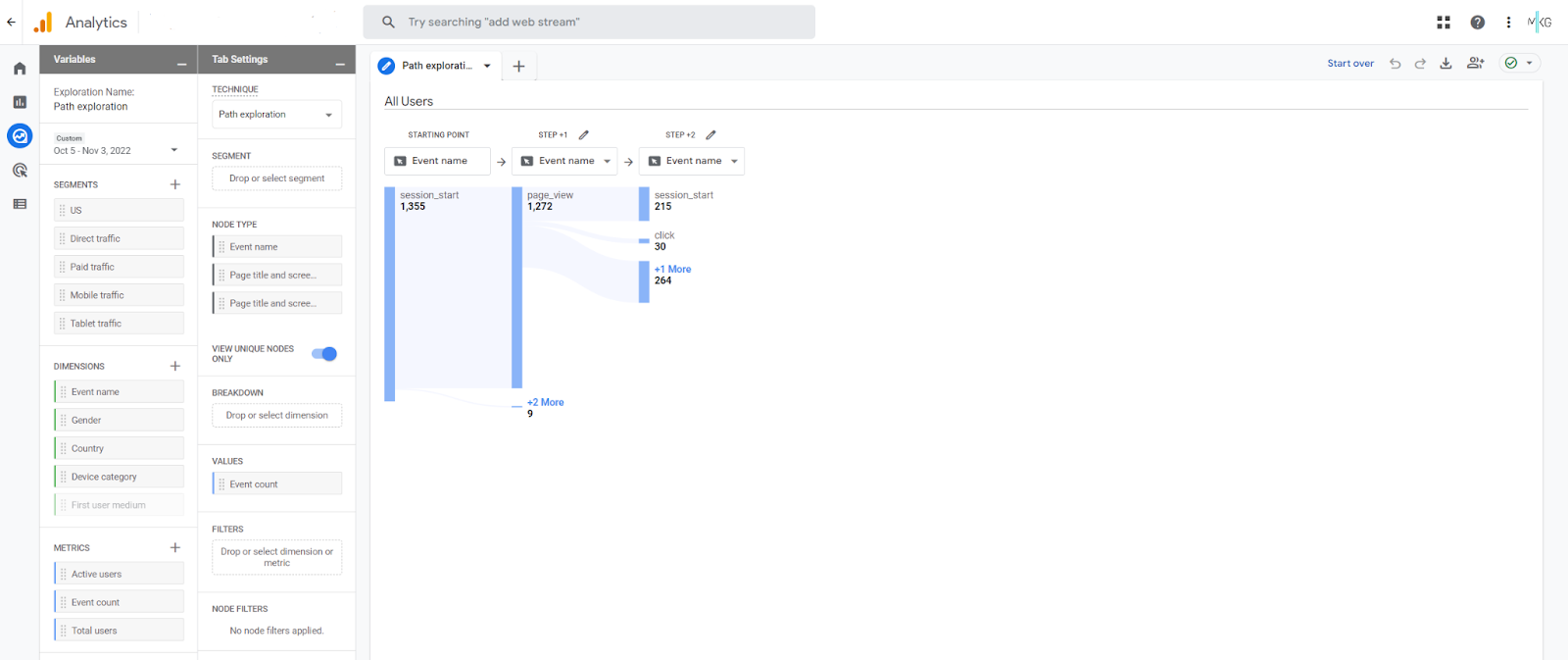 GA4 will estimate the likelihood of conversions and outflows, detect abnormalities in reports, and more.
Machine learning and natural language processing (NLP) features are two of Google Analytics 4's primary advantages. Google intends to expand its predictive direction and offer more predictive indications.
You can split users into audience groups based on their likelihood of doing a user action within a specific time frame (make a purchase, leave the site, etc.).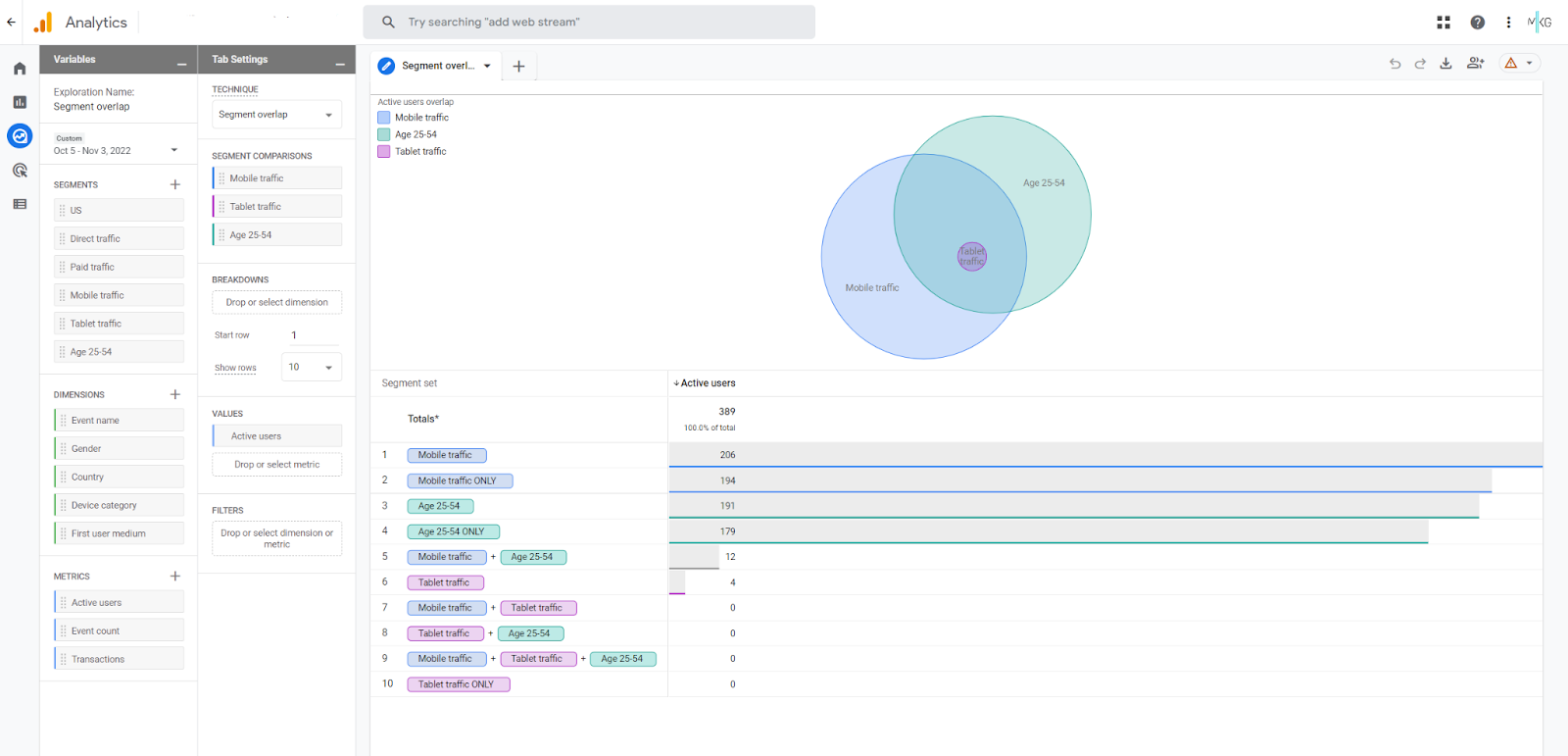 You may build custom reports using the GA4 Analysis Center.
The resource gives access to analytics on the required metrics, segment comparative features, and other indications. You may also generate customized reports or, if necessary, utilize pre-made templates.
You may customize adaptable reports for specialized needs in the report library. Tables, graphs, and other graphics are accessible.

Summary
In terms of analytics collection, GA4 is a reasonable and expected move. Right now, it is worthwhile to consider the vast technological potential. GA4 will be a fantastic and valuable addition to Universal Analytics.
Need help leveraging the new features in GA4? Our expert Analytics team is here to help! Schedule a discovery call today!