The Coronavirus SEO Benchmark - Updated on April 27, 2020
Mike Krass •
March 2, 2020 •
4 minutes to read
Last Updated: April 27, 2020
Every month I sit down at my computer to reflect on the past month. This reflection starts with a few exploratory questions.
What have we accomplished as a business?

Where have our clients and the heroes that power those businesses succeeded?

How can we do more for our team members at work to help them lead happy, healthy and fruitful lives?
This exercise usually quiets my mind as the thoughts flow from my brain down onto the notebook paper I scribble on.
This month was an exception. All I seem to be thinking or hearing about is Coronavirus (COVID-19).
In a discussion I had with a Dell team member earlier this month, the company has announced that all work travel to Asia is suspended until further notice. A few of our own clients have implemented a similar policy.
Bookmakers are placing odds on the Tokyo Olympics being cancelled due to the virus.
And our clients are asking us about COVID-19 as it relates to Organic Search performance.
Why is Organic Search traffic on the decline in China?
How long will SEO traffic continue to decline in countries such as China?
Everyone has questions. Including ourselves! Here are a few that Jenna asked to her professional groups on Slack.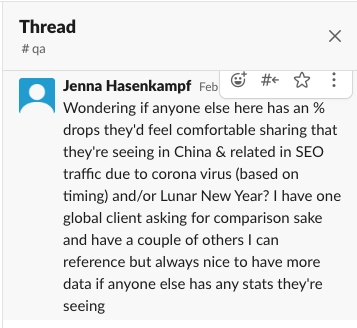 And it seems that very few people have any answers. In fact, nobody we asked in our professional groups had any answers to share with us!
So we took it upon ourselves to create a SEO traffic index to see how a sample of our client's are performing from an Organic Search traffic standpoint in China.
This index is something that we'll be updating on a regular basis to try to track the impact the Coronavirus has on our client's websites. While we are hopeful that this virus can be contained and a cure discovered by those in the medical community, we are cautious and also do not want to blindly believe that this virus will just go away on it's own.
As of the publish date of this post (March 2, 2020), this index looks at a small sampling of our client data. This includes clients with large as well as small websites comprised of:
100,000+ SEO sessions
SEO traffic from within China only
As you can see, beginning in October 2020 China-based SEO traffic has been on the decline by more than 1/3-rd at year end.
We will continue to update this post each month to see if this trend reverses.
The Effects of Coronavirus on Business Revenue in China
Entrepreneurs' Organization, a global non-profit organization that I am a member of, regularly conducts surveys in hot/cold business climates to hear from their members.
They surveyed nearly 300 members who live/run businesses physically in China. Two alarming facts jumped out:
According to the EO coronavirus survey, 47 percent of EO members in China have lost 50 percent of their revenue.
Among them, 17 percent have lost 90 percent of their revenue.
While an n=278 sample size is by no means a declaration of statistical significance, those study results obviously caught my attention.
If you want to help in any way, EO Beijing has formed a 56-member volunteer task force dedicated to helping find and transport medical supplies. We can put you directly in contact with them if you email me directly should you want to lend a hand in any way.
Bookmark this Page!
We'll continue to update this data every month. If you smash the 'favorite', save to Pocket or bookmark buttons on your browser it will be easy for you to see what the small sample from our portfolio of clients is seeing in terms of SEO traffic performance in China.
Update Note: We will be discontinuing the data updates for these graphs beginning in May 2020. If you would like to see the benchmark updated feel free to email us so we can personally deliver you the most up-to-date information.