View from Here: May 2019
Here at MKG Marketing we take a lot of pride in being transparentwith our team, clients and partners. As one of our company values, transparency encourages us to share news internally - which I do every Monday morning when I send a Weekly 1 Page Update to the team. The Weekly 1 Page Update discusses:
Company goals (and progress to these goals)
Scheduling updates, such as a team member being on PTO
New team members joining the team
Business development updates, including a brief description of where different prospects are at in our sales pipeline
Hearing directly from the team, the internal-facing Weekly 1 Page Update is really helpful to keep everyone up to speed on the state of the agency.
As I reflected on the simple-yet-powerful impact of the Weekly 1 Page Update internally, I asked myself a question:
What if we updated the world on the state of MKG Marketing on a regular basis?
View from Here post.
Enter: my monthly
Each and every month I plan to publish an update to let you - our clients, partners and blog subscribers - know what is happening here at MKG.
I settled on the name View from Here for a simple reason: my role at MKG Marketing allows me to see and hear nearly everything happening at the agency. And in the spirit of transparency I wanted to share that view in my monthly View from Here updates.
Some updates will be short. Others will be longer. There is no predetermined length of the update. As a coach of mine once said "It'll take as long as it takes." The same applies each month in the View from Here update.
Let's get to this first update!
New Clients at MKG Marketing
We're pleased to announce that we have begun working with Bento for Business and Maxim Integrated in the past 30 days.
Bento for Business provides "Employee Expense Cards Exclusively For Business." In plain English; they provide employers with the power to provide physical/digital debit cards that employees can expense purchases with as opposed to opening up a business credit card for every single employee that needs to spend money on behalf of the business.
Employers can control how much, where and when employees spend money. You can also turn cards on/off with a single click in their online or mobile application as well as set spending limits (e.g. "Mike has a $1,000 limit before this card gets declined") and get real-time alerts when employees are spending money on behalf of the business.
Also I should mention that Bento for Business is hiring! Check out the careers page of their website to see the engineering, marketing, ops and other open roles between their Chicago and San Francisco offices (screengrab of openings below): https://bentoforbusiness.com/careers/
![]('/images/blog/bento for business job openings april 2019.webp')
We are also thrilled to announce that Maxim Integrated has joined our active roster of SEO clients. They design, manufacture, and sell analog and mixed-signal integrated circuits.
While there are quite a few applications, Maxim Integrated develops integrated circuits (ICs) most commonly for the automotive, industrial, communications, consumer, and computing markets.
Besides bringing an exciting new client on board, we're ecstatic to be reunited with the awesome Dan Santos and his team (headed up by Jeanne Quach - hey Jeanne!) to take on large competitors like Texas Instruments (TI we're coming for you!) in the Search Engine Optimization arena.
Check out some photos from our recent trip to their global headquarters in San Jose, while you're at it!
![](/images/blog/'Maxim Integrated Global Headquarters Trip - April 2019.webp')
Contentstack and Informatica Win Industry Awards/Recognition
Contentstack was recognized by a Gartner Peer Research study as one of the "Best Web Content Management Software of 2019 as reviewed by customers". You can see the study on Gartner's site hereas well as see posts about the news on LinkedIn.
![]('/images/blog/greg luciano gartner peer award.webp')
As for Informatica: For the 6th year in a row Informatica has been named a Leader in the Gartner Magic Quadrant for Enterprise Integration Platform as a Service. Makes us proud to be working with a client like that who has received such consistent recognition for being a leader in their field!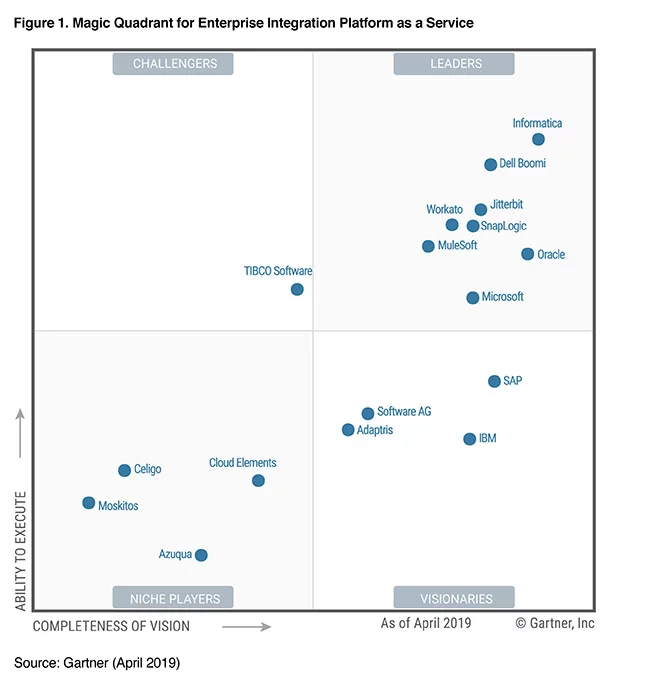 Who are the New Faces on our Standup Everyday?
As most of our clients and partners know, MKG is a scrum-oriented company. This includes our team doing daily standup meetings to align our key priorities and tasks for the day.
There are a few new faces on these standup meetings!
Christina Kay joins the team most recently from BrightEdge as a SEO Strategist. She brings a decade of Digital Marketing experience to our clients and just recently completed her MBA in Social Media Marketing and Analytics while working full time.
We are thrilled to welcome Christina to the team. Do us a favor and say Hello to her by commenting on this welcome video on LinkedIn!
![]('/images/blog/Christina Kay @ MKG Announcement.webp')
CJ Johnson joined the team a few weeks after Christina to lend a hand with our growing PPC and Paid Demand Generation practice. She'll be working out of our New Orleans office and brings nearly a decade of Paid Media experience to the table for our clients.
Same as Christina, we are thrilled to welcome CJ to the team here at MKG. Please make her feel at home by commenting on the video announcement on LinkedIn!
![]('/images/blog/Liz Johnson welcome video - april 2019.webp')
That's a wrap!
Lots of exciting things happening at MKG in the past 30 days - and even more on the horizon in the next 30 / 60 / 90 day window.
If you have any questions for me directly, don't hesitate to visit our contact page to ask them or hit us up on Twitter at @mkgmarketinginc