MKG Marketing is now Featured on Clutch
Kerry Guard •
February 21, 2018 •
2 minutes to read
We were recently featured on Clutch, the leading B2B ratings and reviews service for digital service solution providers. They comprehensively research SEO companies, consultants, ppc companies, social media advertisers and many more digital, and SEO service providers, and effectively map them with their unique research methodology. Their methodology is scored and ranked by an 'ability to deliver' which accounts for factors such as market presence, clientele, and reviews. Reviews are the most heavily weighted factor in their research because it is increasingly important for B2B companies to have them.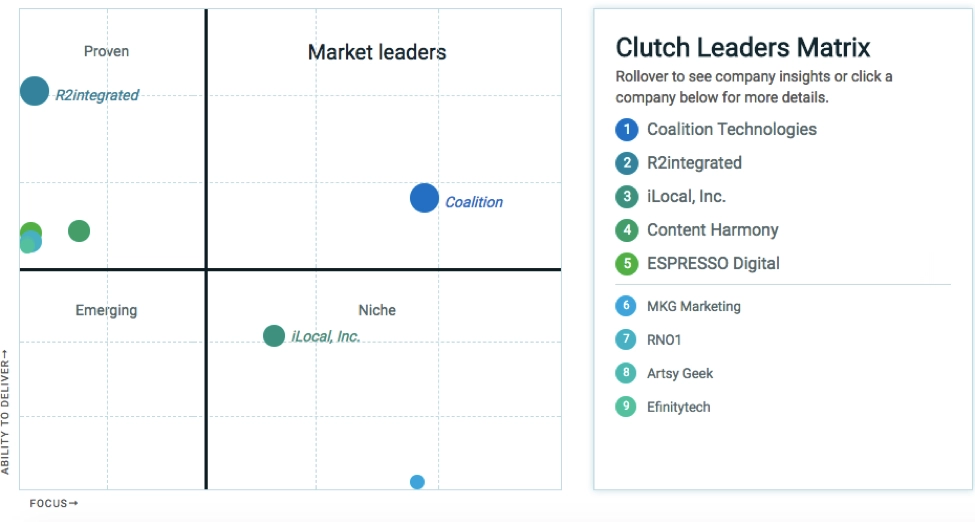 Buyers trust Clutch because of their detailed, unbiased, Clutch-analyst led reviews. Clutch provides case study-like reviews that detail a company's technical prowess in addition to highlighting a company's ability to provide superior customer satisfaction. We had a client share their feedback on their platform, and here's what they had to say.
We leveraged our years of experience to help Avalara reach their digital marketing goals they had set for their campaign. Our team collectively has over 50 years of experience, over 30,000 paid search conversions, and over 160 million impressions. We understand demand generation and we produce results for our clients, which is why 83% of them continue to work with us after initial launches. We are Google partnered and certified, and we bring big agency experience sans the big agency overhead so that we can remain flexible while delivering analytically driven results. Come learn more about the our values.