Overview
Pam Didner is a passionate digital and tech marketer, speaker, and author who loves to bring alignment between sales & marketing. She is the author of The Modern AI Marketer and Effective Sales Enablement.
Her mission- to help bridge the gap between sales and marketing teams so they can work efficiently and grow together.
What's the Context?
Content is a necessary means to communicate with potential clients, but without the proper context, sales teams are unable to effectively utilize it to close deals. When Pam was a marketing manager, her teams would create materials and simply hand them off to sales representatives; only later did she find it advantageous to think of the context in which to present content. For example, some materials may be better suited for prospecting and others for following up with a warm lead. Contextualizing content is one key step for marketing teams to support sales enablement and drive home deals.
Demonstrating Added Value
While marketers utilize copywriting and selective processes when producing email campaigns, this knowledge isn't always standard across teams. For instance, sales teams may conduct some email reach out via Salesforce but may not be as well versed in choosing the most impactful bylines or graphics. Marketing and sales teams don't always have the greatest rapport, but once a relationship is cultivated, the conversations surrounding efficiency are much easier. For marketers who deal with salespeople (who may not want anything to do with them), providing value is a key entrance point to that relationship. If a marketer can demonstrate added value in sales enablement, by other insights, a salesperson is more likely to hear him/her out. Fulfilling a gap if a sale falls through, coffee breaks, and other things help soften the relationship but Pam stresses the need for added value at key moments.
Multi-directional Approach
Companies cannot simply rely on a top-down method of including marketing in sales enablement. Pam stresses the need for individuals to forge that relationship from the bottom-up. At the end of the day, forming a connection is far more valuable than corporate policy or team mandated meetings; the latter is an important first step but marketers must take that action at an individual level. There is natural tension as marketers focus on top-of-the-funnel and sales hone in on closing the deals at the bottom of it; everyone is tuned to the same goal of increasing revenue, but have different methods of reaching a said result. However, the teams sometimes focus on different groups- marketers tend to pitch towards the end-user, whereas sales teams, more often than not, converse and strike deals with procurement associates.
Intent
For Pam, a Marketing Qualified Lead (MQLs) is someone who fills in a contact form and directly expresses the desire to talk with a salesperson. Too often, marketers think of MQLs as any user who clicks around a website or piece of content and is shocked when sales don't reflect the same volume.
Strong Call to Actions
By having a strong call to action within the follow-up email, it incentivizes the potential client to act now and provides a clear path or set of steps to close the deal. Marketers need to proactively seek information from sales in order to follow up effectively with the right prospects. This was only a high-level overview of our conversation with Pam. Be sure to listen to the whole episode!
See you next week!
This episode is brought to you by MKG Marketing the digital marketing agency that helps complex tech companies like cybersecurity, grow their businesses and fuel their mission through SEO, digital ads, and analytics.
Hosted by Kerry Guard, CEO co-founder MKG Marketing. Music Mix and mastering done by Austin Ellis.
If you'd like to be a guest please visit mkgmarketinginc.com to apply.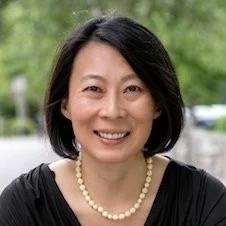 Pam Didner is a passionate digital and tech marketer, speaker, and author who loves to bring alignment between sales & marketing.