Overview
Alex Dunn has been a friend of MKG for a long time. He is a results-oriented business development professional in B2B and B2C marketplaces; he specializes in driving traffic through content solutions
Alex is the Head of Demand at Levelset, a payment solutions company for the construction industry. They've created a platform to alleviate roadblocks, get people paid.
Alex started with video content creation while getting his MBA in Massachusetts, and went on to sell his production company in 2016. That venture primarily focused on video testimonials for B2B tech companies. He honed his craft and started to replicate the success using similar content creation patterns.
As Ben Horowitz quoted in The Hard Thing About Hard Things, "There's no silver bullet, there's only a ton of lead bullets".
A new company must operate and define itself around a core philosophy. There's not going to be one quick and easy solution for all problems; most of the time, the answer will be one specific solution replicated over and over.
For Levelset, the mission and main question was 'how do we drive the most traffic to our site?'
The solution that Alex found was to become a media company (within their niche). Levelset leverages data to create a news website for the construction industry- from news, payment disputes, trends, they seek to grow thought leadership. Rather than ABC, the sales team shifted their focus to providing quality service. Their mantra is "help first, sell second"; this multifaceted approach builds trust, brand recall, and expands inbound traffic. In addition to being a reliable helping hand, creating content demonstrates the human element and often forges a connection with the reader.
Constructing a Flywheel
Kerry and Alex discuss the wheel and spoke model of content creation. It's crucial to build mass around core topic or keyword and build connections. Writing thousands of blogs helps boost Search Engine Optimization, which in turn keeps providing value over time.
In addition to wheel and spoke organization, Alex notes that oftentimes starting a business, no matter the industry, is like a flywheel: it takes a massive amount of effort to start, but spins faster with less resistance once the wheel is moving. Content is very much the same way. Creating a content machine takes a herculean effort and a massive amount of time; however, that content doesn't go away and helps to drive traffic to your website long after publication. Once potential customers acknowledge the value in the information you provide, they are more likely to return again and again.
This episode is brought to you by MKG Marketing the digital marketing agency that helps complex tech companies like cybersecurity, grow their businesses and fuel their mission through SEO, digital ads, and analytics.
Hosted by Kerry Guard, CEO co-founder MKG Marketing. Music Mix and mastering done by Austin Ellis.
If you'd like to be a guest please visit mkgmarketinginc.com to apply.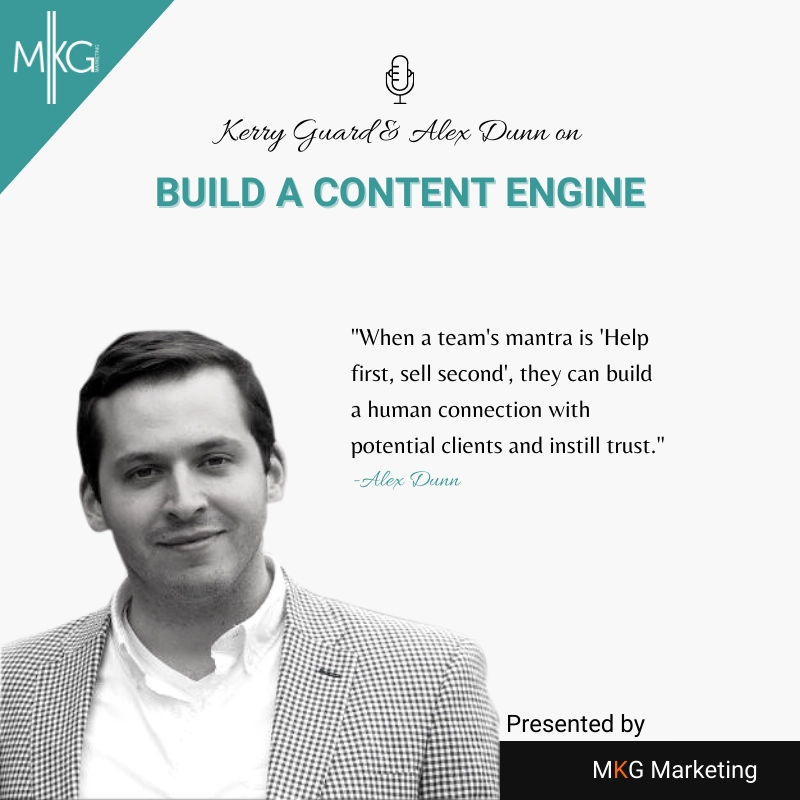 Alex Dunn is a results-oriented marketing and new business development professional with experience in B2B and B2C marketplaces. He has proven leadership in cultivating, managing and growing technical and creative teams.