Overview
Lorena Morales is the head of marketing at Go Nimbly, the first revenue operations consultancy with the goal of driving high-growth companies to increase revenue by 26% through eliminating operational silos. She is heavily involved in multiple groups revolving around revenue generation in the tech space, including co-hosting The Revenue Podcast from RevGenius.
Human First, Then Employee
Lorena has risen through the ranks in marketing through putting herself in uncomfortable situations and finding novel solutions. She immigrated to the United States ten years ago and had to figure out a way to keep her visa, even though she couldn't necessarily choose specific companies or spaces in marketing. Rather than a manager, Lorena considers herself more of a coach to her team, aiding and inspiring rather than simply seeing over the projects. "We need a more human leadership." In the future she sees the shift where leaders are just coaches, but caregivers; by turning the focus to better empower the employees first, then worry about how to generate revenue via a product. They have to make sure that every human need is met, before pressing them to perform at the position.
Her biggest challenge is 'how do I keep understanding how to relate with people in a world that seems to have lost it'. How do you make her team understand that the work they do is important in relation to the other important stressors and tasks in their lives. Steven Hayes's ACT (Acceptance and Commitment Therapy) helps Lorena and her team understand how their work impacts their physical and emotional health. Sometimes it's key to just breathe.
Types of Executives
From her first position in marketing, Lorena has always reported to CEOs, no matter the size of the company. CEOs are a certain "breed" of people; when the executives only see marketing as a support role for sales or simply a cost, it is extremely difficult to deal with. It makes it nearly impossible to come to the table in relation to revenue. When the CEO believes in marketing and sees it as a partnership, it is the exact opposite; the team is able to see the bigger picture and there's more impact as a whole. It all comes down to how the CEO interacts with people in their normal lives; we all bring the same essence and understanding of people to work as we do at restaurants. It is crucial to have a similar understanding of expectations from both marketers and CEOs. When having those conversations, you must come to the table in an analytical and somewhat cynical manner, in order to demonstrate the value add to the CEO and CFO. Lorena mentions the abstract way to measure Brand versus the clear way you can show organic growth and such being a topic of conversation. It is important to assurance and security around the people that you're working with that you will have answers to the tough questions.
Don't Rock the Boat on Day 1
As marketers, you don't always have to come into a new organization and change everything; sometimes it's vital to take the vision of the executive and be able to provide value and expand that goal. Most marketers have that creative element in addition to the analytics but sometimes disrupting most of the procedures, websites, logos, messaging can set a bad tone with the executives. Lorena discusses the idea of a Master Generalist, defined by soft skills and ripe with adaptability, able to tackle problems in any form. Communication and coaching can set someone apart. These days you can learn anything in the toolkit online but soft skills and understanding each other take time and coaching. Lead with empathy and learn which passions that team members exude that way you can leverage their value day to day.
This was only a high-level overview of our conversation with Lorena. Be sure to listen to the full episode on Apple and Spotify!
This episode is brought to you by MKG Marketing the digital marketing agency that helps complex tech companies like cybersecurity, grow their businesses and fuel their mission through SEO, digital ads, and analytics.
Hosted by Kerry Guard, CEO co-founder MKG Marketing. Music Mix and mastering done by Austin Ellis.
If you'd like to be a guest please visit mkgmarketinginc.com to apply.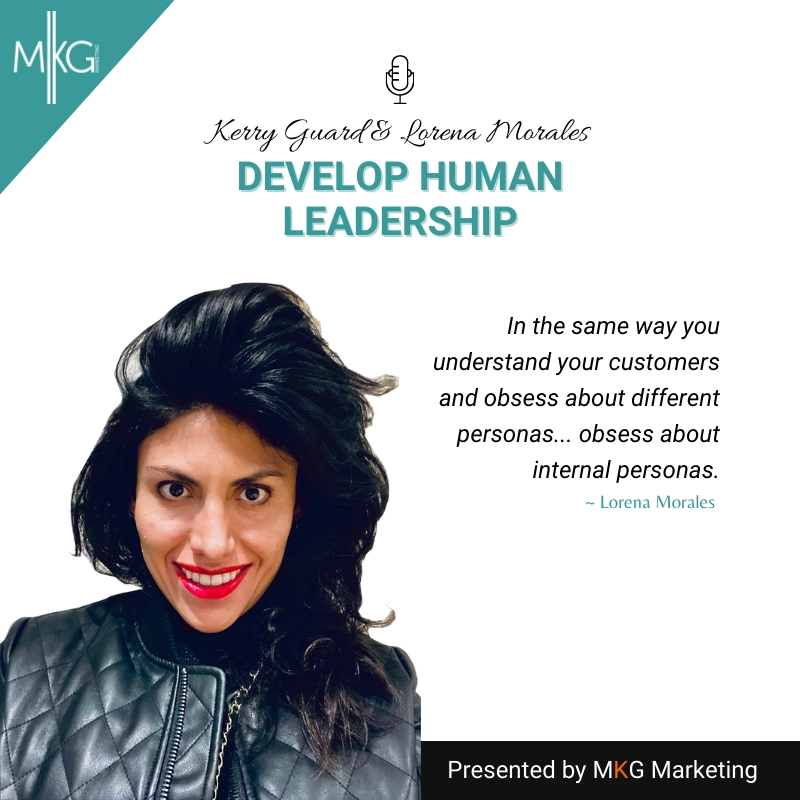 Lorena Morales is the head of marketing at Go Nimbly. She is also heavily involved in multiple groups revolving around revenue generation in the tech space.