The Red Thread
For over twenty years, Tamsen has articulated brand messages (both at agencies and in-house). In the last six years, she has been at the forefront of TEDxCambridge, looking to amplify "ideas worth sharing". She works with individuals and organizations on how to talk about their ideas so that other people will act on them. Derived from a Swedish expression, the "red thread" is the common underlying theme of a brand or campaign. Upon further research, Tamsen discovered that it's actually based on the Greek myth of Theseus, who used a red thread to find his way out of the Minotaur's labyrinth. Just as this piece of yarn guided the hero out a seemingly endless maze, for marketers, it can help direct and clarify messaging. She plainly states, "Your idea, business, product, or service is an answer. It is a new way to slay an old monster."
However, the trick is to build a connection between the problems a client has and why your solution is the best answer to their questions.
Honing In On the Target
Utilizing decision tree questioning, Tamsen helps companies identify where they are and create a mission statement. For example, "We are for (category of person) who want (high-level goal) value (shared/necessary value) but struggle with (specific question you are trying to answer)". Once they've found this question, they are on the right path to "slaying the minotaur". This series of choices are an added sum to help differentiate their offering from the competition. This process requires time but the added value of finding the common connection is immense. Once you know who you're for, you can customize your process to optimize the user experience.
Ideas Aren't Found. They Are Built.
Through her research, not just marketing but behavior economics and decision theory, Tamsen discovered that the brain builds ideas on stories. It unconsciously transforms pieces of information into a flowing narrative. It is always trying to fill in the blanks and those are the same gaps that the "red thread" seeks to connect.
For marketers, the question becomes "How can I build the story that someone would tell themselves about how they landed on my product or service?" In many instances, the founder must reconstruct the journey that brought them to originally creating the offering.
Rather than perpetuating the classic brand marketing interpretation, "once clients understand the brand, they are more willing to buy", Tamsen argues that clients are only more likely to justify their decision. She hypothesizes that "humans aren't rational decision-makers. We are rationalizing decision-makers." We make quick decisions based on gut-instinct then use logic to confirm the choice. Brands have a much easier time selling something when the product is consistent with the customer's worldview; rather than changing behavior, they can reinforce already held beliefs and align their products within these parameters.
Experience Dictates Understanding
Tamsen notes that there are five bones to building a story-Goal, Problem, Truth, Change, Action. Instead of telling stories that are already over, brands are tasked with creating a story with the client; there's power in realizing that the journey isn't over. It isn't always structured in the same manner, and brands aren't always the guides; sometimes they are fellow travelers along the road. Companies must aid clients in seeing the end goal for themselves. How do you build their story based on the beliefs they already hold? You must meet in the middle, validate the clients' worldview, and then offer a new solution to their problem. This was only a high-level overview of our conversation with Tamsen. Be sure to listen to the whole episode!
See you next week!
Additional Resources from Tamsen
This episode is brought to you by MKG Marketing the digital marketing agency that helps complex tech companies like cybersecurity, grow their businesses and fuel their mission through SEO, digital ads, and analytics.
Hosted by Kerry Guard, CEO co-founder MKG Marketing. Music Mix and mastering done by Austin Ellis.
If you'd like to be a guest please visit mkgmarketinginc.com to apply.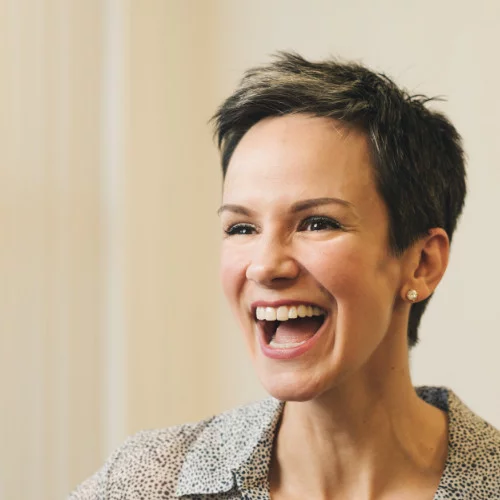 Part keynote speaker, part message strategist, and full-time "Idea Whisperer", Tamsen Webster uses her proprietary Red Thread method to help audiences, organizations, and individuals build and tell the story of their big ideas. The result? Real, transformative change.