Overview
Gwen Lafage runs the European office of a B2B tech creative agency, Skӧna. The company is headquartered in San Francisco but expanded to Stockholm, Sweden in 2016.
Gwen is originally from France and has lived and worked all over the world, London, Paris, San Francisco, now in Stockholm. She boasts an impressive resume of experience in international creative agencies.
She took sometime away and opened an art gallery in San Francisco in 2010 which is how she found Sköna. Deriving from Swedish for "convertible" and "glorious", Sköna mainly works with B2B tech clients, mostly centered in Silicon Valley. With strong ties to Swedish culture and a flat organization, Sköna is a full service firm with a startup atmosphere. They help clients with the complete cycle of marketing, from brand strategy to visual elements to implementation/execution. Visual identity remains a key factor but they also take website design/development, campaigns, and events into account.
For The Brand
When it comes to branding, most marketers tend to focus on 2 things, look and feel (logo) and campaigns.
For Gwen and Sköna, it is bigger than that - "Branding is what people say when you're not in the room"; it influences the perception of the company in a manner that attracts and informs potential customers.
Messaging is incredibly important; you must understand and communicate 'Who are you, what do you do, how do you do it'. This messaging designates whether or not there is added value for customers. Finding that unique voice in all the noise; even in B2B, you are still dealing with emotion and the personal elements of communication.
They will go to a good values fit, and the firm that they trust, not simply relying on the best product features. There a plenty of misconceptions surrounding content and branding; it is not just the visual elements, the logos & color-scheme. Branding is a foundation for marketing
Before you do banners and push content, you need to define what your company is about, and what problem it solves. Even when thinking of brand campaigns, you must consider the ROI and the aim.
Finding the Right Combination for the Best Results
Gwen calls it a "brand generation campaign", a combo of brand awareness & lead generation. Most B2B tech companies don't have an extra $2 million to drop on an awareness campaign. However, companies can do smaller activities to help build voice and craft messaging effectively.
By crafting a big piece of content, you can create the buzz and tell the story. Adding legs, building out more content on the same topic, allows you to focus on true consumer insight and hone in on potential leads. Fully developed content also encourages more and more people to discover your offerings and possibly convert.
Whether you choose a big video, infographic, product one pager, they should all directly flow to a call to action. This way you can focus on creating a campaign around specific content utilizing the funnel.
Consistency is key in anything you do but particularly in running brand generation campaigns. Customers can come to rely on your content engine and resources you provide.
This was just a high-level overview of our conversation with Gwen Lafage. Be sure to listen to the whole episode! Come back next week for more written content!
This episode is brought to you by MKG Marketing the digital marketing agency that helps complex tech companies like cybersecurity, grow their businesses and fuel their mission through SEO, digital ads, and analytics.
Hosted by Kerry Guard, CEO co-founder MKG Marketing. Music Mix and mastering done by Austin Ellis.
If you'd like to be a guest please visit mkgmarketinginc.com to apply.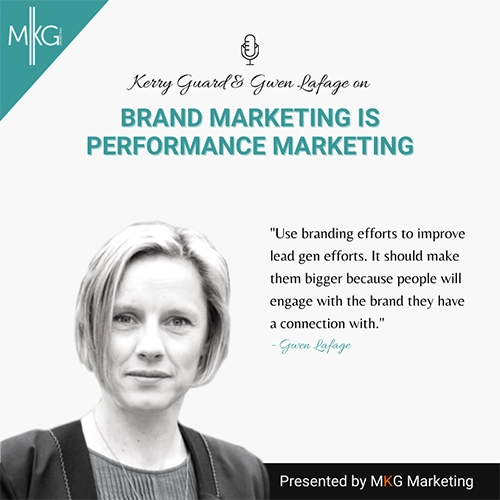 Originally from France, Gwen Lafage is the General Manager at Sköna Europe in Stockholm. They help transform B2B Tech companies into Brave Brands.