Overview
Max Borges runs a Public Relations (PR) agency that works exclusively with consumer tech companies. He employs 50 incredibly talented people and has built a profile of 50 clients. When starting, he mentions AFM (anything for money) wherein he built an agency to fill any need that would bring in a paycheck. He also hosts the "Unconventional Genius" podcast where he interviews authors and other industry-driving leaders in hopes to share stories and inspire listeners. Both he and Kerry focus on impacting the client's bottomline through pipeline creation.
Pivoting from Sales to PR
In the early days, Max and his small team were super effective at simply picking up the phone and garnering media relations; the agency was run in a very sales-forward manner. Over time, he and the team have adapted other tools, events, television to provide value to clients and attract attention from media outlets. Relationships and reputations are absolutely key to their success; now, media reaches out to Max and his team for specific product lines that they wish to represent and information to push. "If the media is happy and gives you good coverage of your products then your clients will be happy and in turn the employees will benefit." It's a virtuous waterfall when keeping the media happy and bolstering the interactions from all contributors.
The Four Stages of Growth
Anything For Money - Be a Yes Man. At the beginning, it's crucial to just get your company or agency off the ground and start cash flow.
Honing In - By starting to find a niche, both in clientele and service lines. For Max, his firm solely works in consumer tech firms, largely in online retailing.
Finding Your Competitive Advantages - After finding a focus, define what sets your business apart from others in the same space, what are the unique services that you can offer.
Category Dominance - Testimonials, case studies prove that you are the best at what you do in your niche.
Life Is An Open-Book Test
Max wrote a book titled "How To Be Fan-F*cking-Tastic" which contains one hundred-plus powerful quotes that inspired him over the years to 'stop sucking at life'. Much of the book deals with finding activities and an occupation that give you purpose. For Max, everyone deserves the opportunity to do something that they love and inspire them to get better every single day. Passion drives growth and builds meaning; if you don't have it where you are currently, keep searching. Success secrets are out there, so as Max encourages, invest in yourself and find the answer. You can be an amateur on Friday and become an expert by Monday if you take the time to research and learn. You don't need to have all of the answers right away but you must recognize that the right resources are out there.
This was a high-level overview of our conversation with Max Borges. Be sure to listen to the whole episode on Apple and Spotify or wherever you stream your podcasts.
This episode is brought to you by MKG Marketing the digital marketing agency that helps complex tech companies like cybersecurity, grow their businesses and fuel their mission through SEO, digital ads, and analytics.
Hosted by Kerry Guard, CEO co-founder MKG Marketing. Music Mix and mastering done by Austin Ellis.
If you'd like to be a guest please visit mkgmarketinginc.com to apply.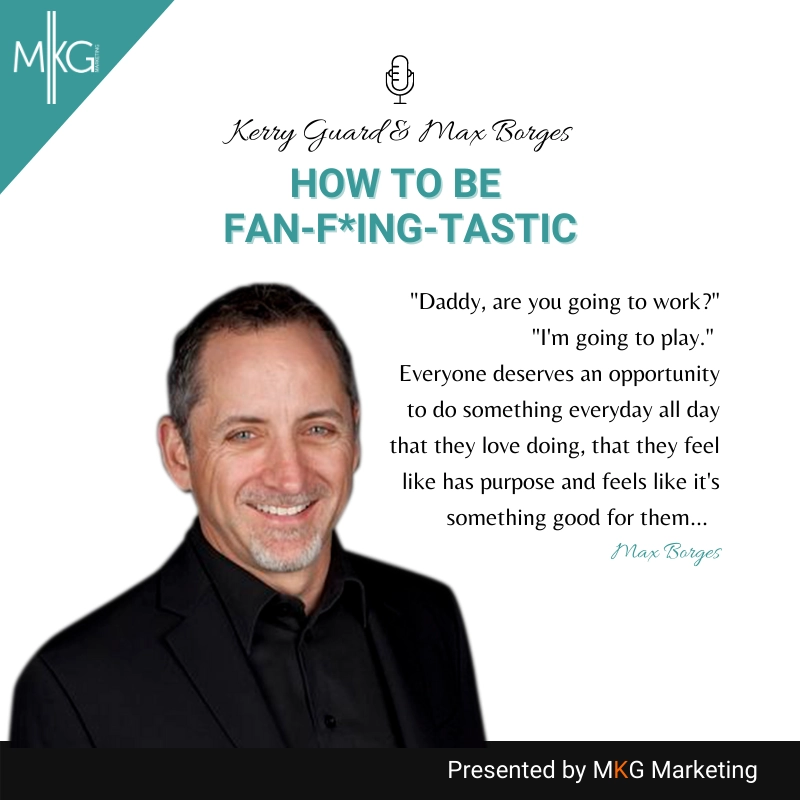 Max Borges is a student of business and the founder of a successful public relations agency. His book "How To Be Fan-F*cking-Tastic" is full of hard-earned knowledge and inspiring quotes on self-improvement and professional development.