Conversion Copywriting
Creating In-Depth, PILLAR Content that can be written in a way that both informs and persuades.
The best copywriters pass what Lawrence calls the 'barstool test'; in order to put the reader at ease, imagine as if you were sitting in a restaurant with the reader. By writing in a conversational tone, you invite the reader in and avoid confusing them with complicated industry jargon.
To build this perfect storm of growth, you'll need an irresistible offer, understanding of sales psychology that drives your ideal customers, and the writing chops to weave a story that engages that audience into making a direct response.
By following three steps, companies are able to employ content as a method of lead generation.
Providing valuable information
Positioning product/service as an industry leader
Drive engagement, (email opt-in, call to action)
Headlines need a solid hook and a solid graphic because people see the image first then read headline. If you don't position your business along the way, a call to action won't hit home. By utilizing a CHALLENGE/SOLUTION framework, companies can structure their content efficiently.
Quality over Quantity
You should place emphasis on providing high-quality information.
Producing quality long-form content is time-consuming but necessary to positioning your business as a quality provider.
Different industries require different specialties. B2B tech companies operate with a different ideal customer portfolio than software firms. It is ideal to optimize your writing for that result (sales v awareness), depending on the expected goal.
Surveys provide audience insights in order to best customize your strategy.
alltop.com & feedly.com are great aggregators, to see what is trending right now in order to tailor newsletters and social posts.
Lawrence recommends a balance of 90% Content, 10% Sales; this soft-selling method demonstrates value and provides information without pushing too hard. This was only a high-level overview of our conversation with Lawrence. Be sure to listen to the full episode.
Stay tuned for more written content coming next week!
This episode is brought to you by MKG Marketing the digital marketing agency that helps complex tech companies like cybersecurity, grow their businesses and fuel their mission through SEO, digital ads, and analytics.
Hosted by Kerry Guard, CEO co-founder MKG Marketing. Music Mix and mastering done by Austin Ellis.
If you'd like to be a guest please visit mkgmarketinginc.com to apply.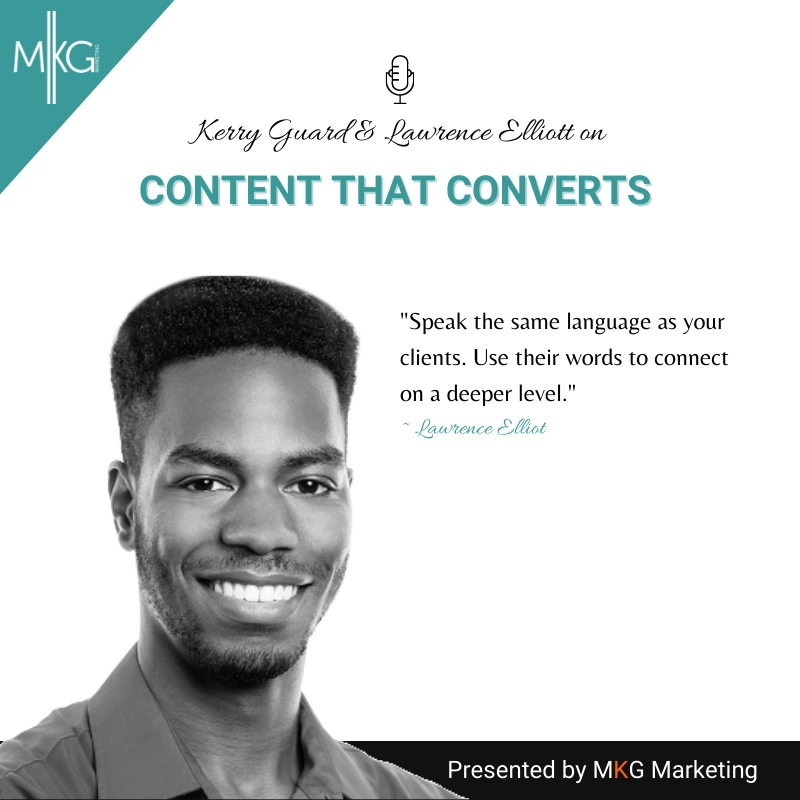 Lawrence Elliot brings years of copywriting experience to help clients prepare marketing materials for massive launches. His copy strategies and conversion methods aid companies who wish to scale quickly.