Overview
In order to construct a high performing team, you have to ask during the hiring process - Would you enthusiastically re-employee the people on your team? Paul advocates utilizing the classic, Norton's balanced scorecard of company effectiveness as well as 9 key foundational elements to create a high-performing team.
9 Foundations
Culture - who you are, what you believe, and the promises made on both sides. Not the perks or pool tables and unlimited snacks.

Guiding principles - what are 'the rules to play in the sandbox'. By clearly outlining and defining, you can set goals and expectations.
Stories - how are some of the ways that the company has helped people
Behaviors/Rituals- from bottom up, establishing patterns and certain things that the firm continues to do. For instance, a weekly round up meeting or celebrating birthdays.

Engagement Score (EOS) - is what's not said in the meeting.

Diagnostic - Peak - 12 questions every month and will track deficiencies across the team. It's important to keep the pulse on the nuances of how the team is feeling.

Capability Development

Review - performance & potential. Is the person in the right role? Do they have a chance to be promoted into new roles?
70-20-10. 70% on the job. 20% from other team members. 10% from their managers. People need to feel like they're growing in order to see the value in their work and to avoid boredom.

Recruitment

Don't be expedient. You must wait for the right person and allowing a junior member to take on more responsibility to alleviate a time crunch. Culture is a non-negotiable for Paul whereas for some roles, technical can be learned.

Systems

See Part I for further analysis of how to find the right tools to set the team up for success.

Expert Pool - Specialists

When possible, you can bring in an expert and have them help teach the rest of the team in an expedited manner.

Roles and Responsibilities

You should clarify who has ownership of each task. Collaboration is important but one person have the buck stop with them. If it's not your category, try not to correct and recommend because you may be overloading the expert. You should lean into each individual's superpower.

Rewards/Immoderation

Paying people based on the job, not how cheap you can get them. Clear rewards & recognitions can go a long way to boost morale and inspire confidence.

Policies & Procedures

It is your duty to make things clear. A playbook is absolutely necessary to to document and uphold an agreed standard.
This was an outline of our conversation with Paul. Be sure to listen to the full episode and reach out to Paul on LinkedIn and his site!
Check out Paul's Mentoring Website
And listen to his podcast Build, Live, Give
Thank you for listening to Season 6 of Tea Time With Tech Marketing Leaders! We will be back at the beginning of Quarter 2 with 8 new episodes!
This episode is brought to you by MKG Marketing the digital marketing agency that helps complex tech companies like cybersecurity, grow their businesses and fuel their mission through SEO, digital ads, and analytics.
Hosted by Kerry Guard, CEO co-founder MKG Marketing. Music Mix and mastering done by Austin Ellis.
If you'd like to be a guest please visit mkgmarketinginc.com to apply.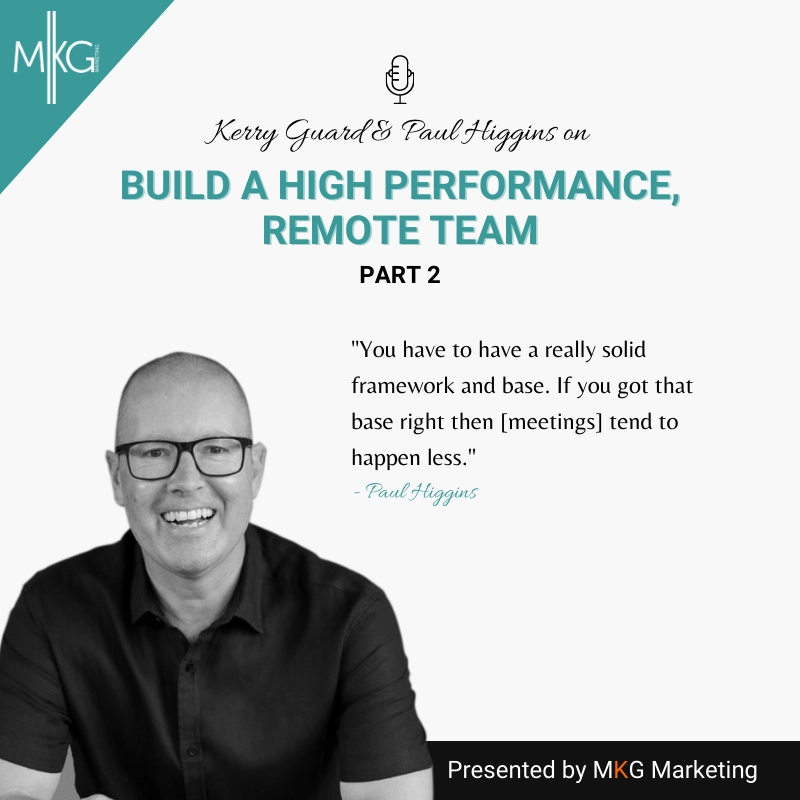 Paul Higgins is a sales mentor who helps ambitious service-based owners build sales systems to build, live, and give.