Overview
Carmen Collins is the Senior Social Media and Talent Brand Manager at Cisco.
Her Mission: Build personal connections with future talent by amplifying authentic content from current employees.
She does this by using marketing tools to talk about what it's like to work at a company rather than to "sell" a product, commercial good, or service.
Selling A Culture To The External World
Question - What is it like to work at Cisco?
"People are people before they're employees."
For Carmen, the biggest factor is the people. Cisco shifted their mindset away from "Human Resources" (HR). Instead, they use "People and Community", which helps personify the focus of that portion of the organization.
CISCO lets people be themselves both inside and outside of the workplace. It gives them opportunities to share their passions - Time off to volunteer and match donations to causes that matter.
Carmen and her team work to demonstrate these initiatives to a wider, public audience in hopes of attracting top talent who share corresponding values. Cisco employees use social media under a single hashtag, #WeAreCISCO. When Carmen's team sees the hashtag on Facebook, Twitter, Instagram and more, they engage with the post as Cisco by liking and/or commenting then re-share it.
Employee sentiment is raw and unfiltered. Culture comes through and gives your brand some humanity, a level of authenticity otherwise not expressed in the very clean-cut, traditional ads.
"The easiest way to find out what it's like to work someplace is to ask an employee"
Carmen and her team are reporting as close to the employee sentiment as they can in order to attract new talent and drive a 'people first' message.
You Can Make It Work For Any Size Business
Any piece of Word of Mouth (WOM) helps. Carmen started this initiative with 2 people and no budget and has grown it organically over time. It comes down to Consistency & Engagement; sharing what is happening in the company to humanize a large, monolithic company.
Social Media Pro Tip
Quote an employee as an ambassador by:
Creating an image with both the employee's headshot and their quote
Post the image to social media AND put the quote in the text box
Share it and tag them so that they can re-share it amongst their networks outside of the company
The quote copy MUST be in the copy field not just in the graphic! When you tweet or share the photo with text, it is not accessible to everyone; most text-to-speech software cannot decipher the copy on graphics.
Get Started
Finding new really good talent feels impossible and the best way is by referral. People already working for the company and referring like-minded new people to the interview loop is the best!
Carmen's approach is creative and unique. Arm your employees with a simple hashtag to share why they love working for your company. This shows to their network how cool their job is, and in turn, garners new talent from a very reliable source… your employees.
Links
This episode is brought to you by MKG Marketing the digital marketing agency that helps complex tech companies like cybersecurity, grow their businesses and fuel their mission through SEO, digital ads, and analytics.
Hosted by Kerry Guard, CEO co-founder MKG Marketing. Music Mix and mastering done by Austin Ellis.
If you'd like to be a guest please visit mkgmarketinginc.com to apply.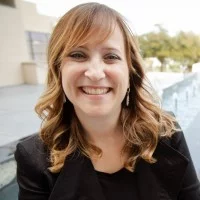 Carmen is the lead for the (60+ times!) award-winning Talent Brand Team at Cisco. They set the tone to speak like 70K employees instead of a 70K-employee company. Our metrics surpass all expectations & drive business outcomes. Google any article where we''ve open-sourced our success. We launched Cisco''s first Snapchat channel, we are LinkedIn Live Beta users - we innovate everywhere. All using employee-generated content for employee engagement and social proof to candidates. #WeAreCisco #LoveWhereYouWork. http: //www.cisco.com/careers