Overview
Meghan Nesta has run the gamut throughout marketing and technology and has found her happy place in product management. She acts as the bridge between customers, the market, and helping them solve their problems using the features of the platform. She's been with her company, AWeber, for 6 years helping clients connect with customers utilize email marketing. Her team is full of curious people aiming to solve problems in unique ways.
Operating With 6 Values
AWeber upholds and operates with six key values in mind that 'go beyond words on a poster'. They are as follows: Create remarkable experiences, execute with passion, foster respect and cooperation, listen to what people say about us (invite feedback), learn-educate-innovate, & don't take yourself too seriously (have fun). Whereas they all are self-explanatory, the final one stuck out; when in the physical office, all new team members experienced a musical walk-up and Nerf gun initiation. In addition to the usual HR appliances, every new member's box included a Nerf gun, stickers, and a pair of socks (in hopes that they would be knocking the socks off of every client). This instills the upholding of humanity within the team.
Remote Relationship Building
As with most teams during the COVID-19 era, Meghan and her team have been forced to pivot from a very collaborative, in-person environment to a remote set-up. They made sure to prioritize maintaining an inclusive work culture. In the first days, every team member received a Door Dash lunch to be enjoyed together, even if via Zoom. "Sometimes it's just your job to bring the donuts"; as a manager, Meghan's goal is to inspire and foster connection within her team. At the weekly Happy Half-Hour, they play the game Movie-Movie where you have to describe two movies that tend to blend together and everyone guesses in a somewhat charades fashion. They've also had to develop better methods of working asynchronously while keeping the team-centric feel. Without the tools of in-person, Meghan has pivoted over to Slack and direct messages (gifs, emojis, and such) to continue to connect with her team on a deeper level. The use of Agile planning and Retrospective has been immensely successful; every 2 weeks, each member rates how they are personally, health-wise, and professionally from 1-10. This system, though a tad awkward to start, has fostered good communication and inter-connections throughout the rollercoaster of the pandemic.
For more information on how you can enable Agile planning be sure to listen to our conversation with Lisa Farrow.
Words are absolutely key when operating in a text medium, so many times it is necessary to clarify tone and whether or not the message is clear. Although, when unsure, it is always better to simply press the video button and hop on a call. When hiring, it can be advantageous to frame it as whether or not the candidate is a "values add" rather than simply a "values fit". Unique perspectives can add to the richness of a company; it's a decision between 'more french fries' and 'french fries with ketchup'.
This was only a high-level overview of our conversation with Meghan Nesta. Be sure to listen to the full episode and the entire season on Apple or Spotify!
This episode is brought to you by MKG Marketing the digital marketing agency that helps complex tech companies like cybersecurity, grow their businesses and fuel their mission through SEO, digital ads, and analytics.
Hosted by Kerry Guard, CEO co-founder MKG Marketing. Music Mix and mastering done by Austin Ellis.
If you'd like to be a guest please visit mkgmarketinginc.com to apply.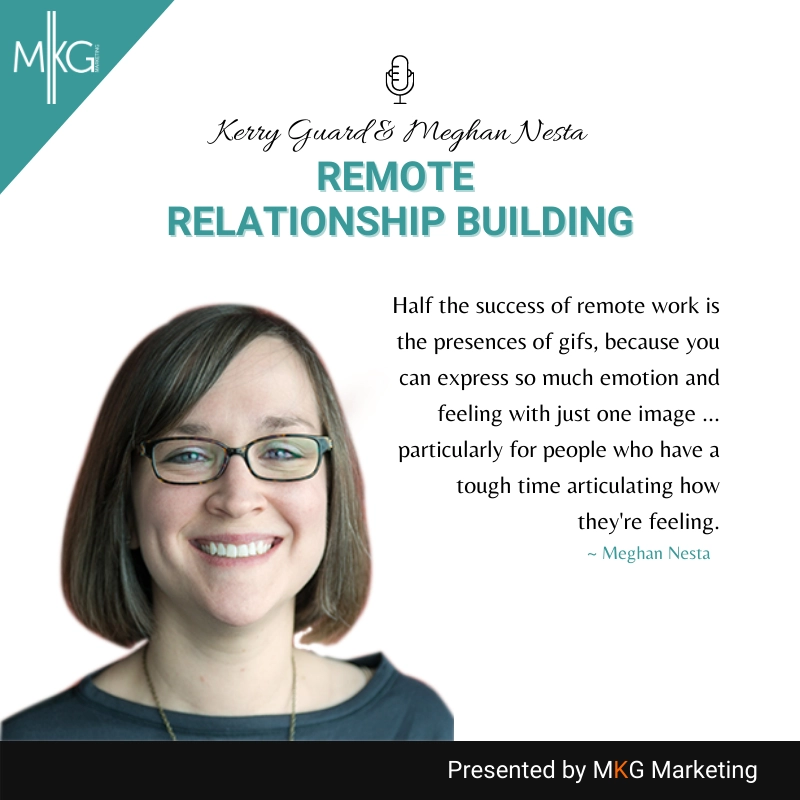 Meghan Nesta is a Senior Product Manager at AWeber, a leading email marketing and automation platform built for small businesses. With a passion for team-based, collaborative product development she brings a holistic view to the craft of product management to find and solve customer problems.