Overview
Quincy Johnson is a Marketing and Technology Strategist who teaches at the University of Texas at Dallas. He lectures primarily on how to effectively utilize social media marketing. He started in inside sales as has discovered the wide range of social and martech as it relates to technology companies.
Social Selling
For Quincy, social media is the grand Truman Show: a great experiment to observe and document the way humans form connections and present stories. People have access to share whatever and whenever they want. For brands, the pandemic has forced them to create an identity and 'meet people where they are' but not cross the line into just selling. Many sales reps have had to "dust off their LinkedIn" and get down to forming connections in a remote world. Pro-tip: please don't follow up five times on unreplied inMail message. Staying true to one's message allows for better buy-in; for instance, Simon Sinek sharing tid-bits and helpful information, while still having a selection of books and content available for purchase. For Quincy, he argues that the executives (even via ghostwriters) needs to drive vision and the sales teams can be on the ground making connections, create 1 to 1 relationships. C-Suites have the ability to both garner attention and inspire internal commitment from their teams. Evangelists have a way of captivating audiences and crafting industry-shifting visions.
Petting the Belly of the Puppy
As discussed on previous episodes, LinkedIn and Facebook have different superpowers and can offer various techniques on engagement. The latter is more of the 'softer' side of the company, in terms of demonstrating culture and community. Quincy mentions that TikTok has an enormous audience and brands can have the latitude to reach a variety of niche markets; the algorithm doesn't discriminate on previous content. However, it's an ever-changing platform that some videos garner a few hundred views and one could blow up reaching multiple millions of screens. YouTube is another, more established platform which requires people to build a channel; there is incredible value because millions go to the platform for information- from learning a new skill to fixing a sink. Demonstrating expertise on how to do what you do can garner leads and provide value. In addition, by learning how to navigate a platform, the future workforce can become skilled and implement those systems down the line. He advocates an entrepreneurial mindset when learning and implementing new technologies and strategies.
This was only a high-level overview of our conversation with Quincy. Be sure to listen to the full episode and the rest of the season on all streaming platforms!
This episode is brought to you by MKG Marketing the digital marketing agency that helps complex tech companies like cybersecurity, grow their businesses and fuel their mission through SEO, digital ads, and analytics.
Hosted by Kerry Guard, CEO co-founder MKG Marketing. Music Mix and mastering done by Austin Ellis.
If you'd like to be a guest please visit mkgmarketinginc.com to apply.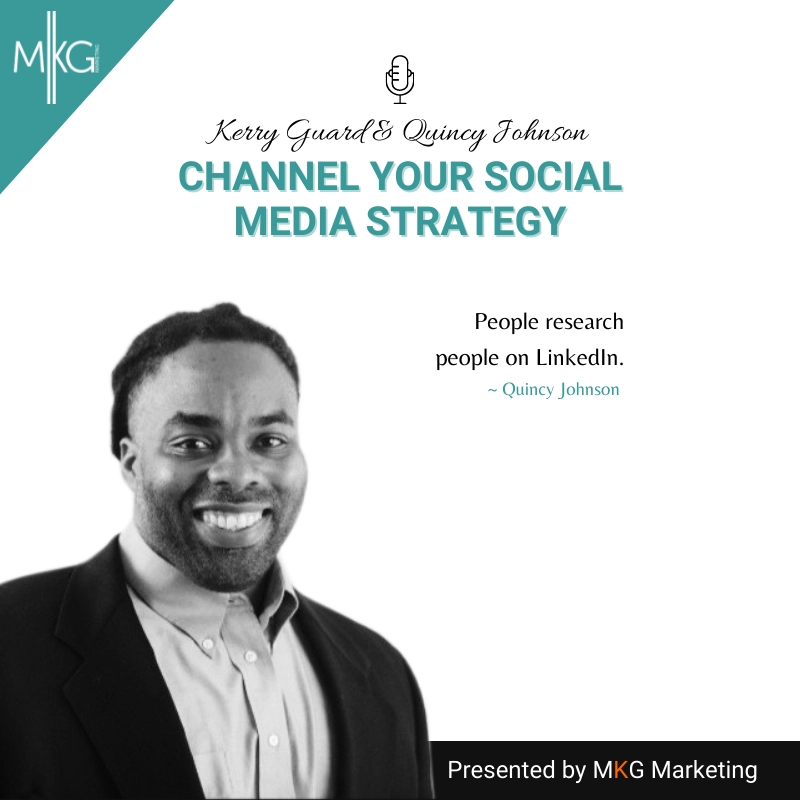 Quincy Johnson is a Marketing and Technology Strategist who is passionate about content creation, helping others, brand strategy, MarTech, social media, copy writing, learning new things, music, and collaboration.