These words are flowing from the fingertips of someone who just took a week of paid time off to get some rest & relaxation.
I'll be honest with you: It feels a little unusual to take time off while we are still in the midst of a global health as well as economic pandemic.
Even though MKG is a remote and people-first company, it took me a few days to pull the trigger on taking 4 days off to take care of myself as a human being.
Why, you ask? Well...
Unemployment in the USA at a record high: Who am I to take time off when other people in my industry aren't working?
A global Pandemic requires a lot of communication: If I'm off for a week, how will I support Kerry and the team with internal communication as things change on a day-to-day basis?
Where will I go? What will I do? My wife lovingly emailed me a $400 WOW Air flight roundtrip from New York to Paris. Normally, I would have booked this flight and would be typing this update from Paris. No question - let's go! This was the first time that I had the thought: where will I go and what will I do when I am there? Wait...I can take time off and not go somewhere?? That's a thing people do? (yes, it is)
Fortunately my business partner Kerry supported me in taking some time away from work.
And like all time off I take, I generally arrive at a point of wanting to get back to work again. Wanting for that first Monday back to be here soon. Because for me, that shows I am ready to re-engage my brain with the work that I do for a living.
Taking time off helped me reflect on a few things in my professional life. This month's View from Here post will take a moment to describe what I reflected on during my days off.
Reading is Lighter Fluid for My Brain
A great basketball coach by the name of John Wooden is famous for saying the following phrase:
When you are through learning, you are through.
I'm an aggressive reader of spy novels, business literature, and (short) biographies on celebrities or public figures both alive as well as deceased.
Taking 4 days off (thanks to the service of our armed service men and women, I cashed in on the Memorial Day holiday here in the US to get Monday off gratis) really helped me read even more. It was fantastic.
A few books that I crossed off my reading list included:
The first three books in the Ryan Savage adventure series book (love some adventure books on the Kindle!)
The Art of Client Service, by Robert Solomon
Ask, a book that outlines what the author calls "...a Counterintuitive Online Formula to Discover Exactly What Your Customers Want to Buy"by Ryan Levesque
Each of those books taught or reminded me of something that I find useful. A few examples included (in order):
A cay (known as Key or Caye), found down near the Florida Keys, is a "small, low-elevation, sandy island on the surface of a coral reef" How cool is that? That means the Florida Keys are on top of a huge coral reef!
Some skills - such as earning trust in a business relationship - are timeless. They will never go out of style or lose their usefulness.
How to not ask questions if you actually want to get useful answers! Here's an example: think about excluding dinner options when you ask your significant other "What should we have for dinner?". Instead of saying 'iono...' back and forth for an hour start by asking what you don't want as well as why not so you can arrive at a decision.
Getting back to the title of this section: reading helps me sharpen the mental 'pencil' in my brain. It keeps me learning. Learning allows me to develop an interest in new or exciting things.
A Team is a Team - No Matter if It's Business or Sports
Earlier this year I started watching the documentary series The Last Dance.
This show documented the Chicago Bulls dynasty from the late 1980's and 90's.
As a big NBA basketball fan during that era -- Why'd you have to go and beat my beloved Supersonics in 1996 Finals, MJ!? -- I knew all about the team.
I finally had a chance to finish the series. The first thought that entered my brain was:
A team is a team - it doesn't matter if it's a marketing team at work or a professional. basketball team. Team dynamics exist everywhere in life.
Strong teams have players in all kinds of roles. Again, in business as well as basketball, there is often only one 'ball' that can be played with.
The Chicago Bulls dynasty showed the uncommon roles that were important such as:
Dennis Rodman: "The Worm", as he was affectionally known, was a rebounding and defensive machine. While very few people grow up playing hoops saying 'I'm going to get to the NBA so I can score 1.2 points and collect 30 rebounds every game and chase every loose ball that comes with 100 feet of me' that was who Dennis was! He was a defensive force with tons of energy.
The role players (Steve Kerr, Luc Longley, etc) stepped off the bench to give the starters a break.
The all star in the shadow of a God (Scottie Pippen): Can you imagine being one of the best players in the world ... and not even being the best player on your team? Absolutely. Scottie Pippen was exactly that person.
The coach who was more than a basketball coach. Phil Jackson was a teacher first and a basketball coach second. Very similar to John Wooden :)
Closing Out with A Pair of Lessons from the Zen Master Himself, Phil Jackson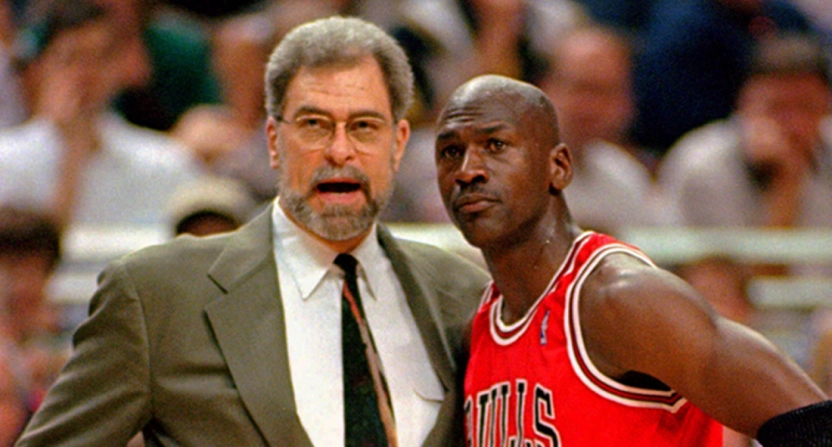 Phil Jackson - an 11 time NBA champion as a coach - was affectionately referred to as the Zen Master.
And while I remember him primarily as a basketball coach, watching The Last Dance reminded me that he possessed impressive mental abilities.
A few of the lessons that he taught me included:
Windows of Time and the Importance of "Now"
To Phil, everything was centered on focusing right now.
Not trying to do two things at once.
Not thinking about yesterday or tomorrow.
"Now" is the most important time. So give it your attention!
Michael Jordan understood this concept. Throughout the documentary it was mentioned that he had a maniacal focus on the present moment.
Seeing Phil and MJ focus on the present 20+ years after the fact was really helpful for me.
Think Different
Phil was not your stereotypical basketball coach.
Phil liked to think differently. He liked to apply existing concepts in uncommon ways with his teams.
A few examples included:
Native American culture and art
Breathing and mindfulness
Centering yourself to focus on the task at hand
While the phrase "finding your breath" is fairly common today, in the early 1990's it was not a phrase that the general public used.
Phil took these concepts of mindfulness, focusing on the breath (like in yoga) as well as preparation methods from Native American history and brought them to his teams.
Until Next Month...
Don't hesitate to reach out if you want to ask me anything about the View from Here post this month!
We are also updating our website with a lot of new resource, service line and case study content!