Vulnerability is not winning or losing. It's having the courage to show up when you can't control the outcome. ~ Brené Brown
Hi there. I'm Kerry Guard, COO of MKG and I have commandeered this month's View From Here, because my view is pretty sweet (see hero image)… and also because I'm head of HR. September was an HR focused month from our Annual Summit, which focused on our People First Value, to Diversity, Equity, and Inclusion training.
First, let's break down our Annual Summit and how we grew closer as a team as we further understood our People First value and more importantly... each other.
2020 Virtual Summit
Day 1: MRI Icebreaker
We always open up our event with a team bonding icebreaker. This year, we partnered with Joy of Professional Learning (Joy of PL) where we took a deep dive on MRI - Most Respectful Interpretation.
Kurt Klynen from Joy of PL opened up the event with a photo walk. We sent each person a Funk Pop figure from their favorite movie. Each team member used the figure to show the space they're working in.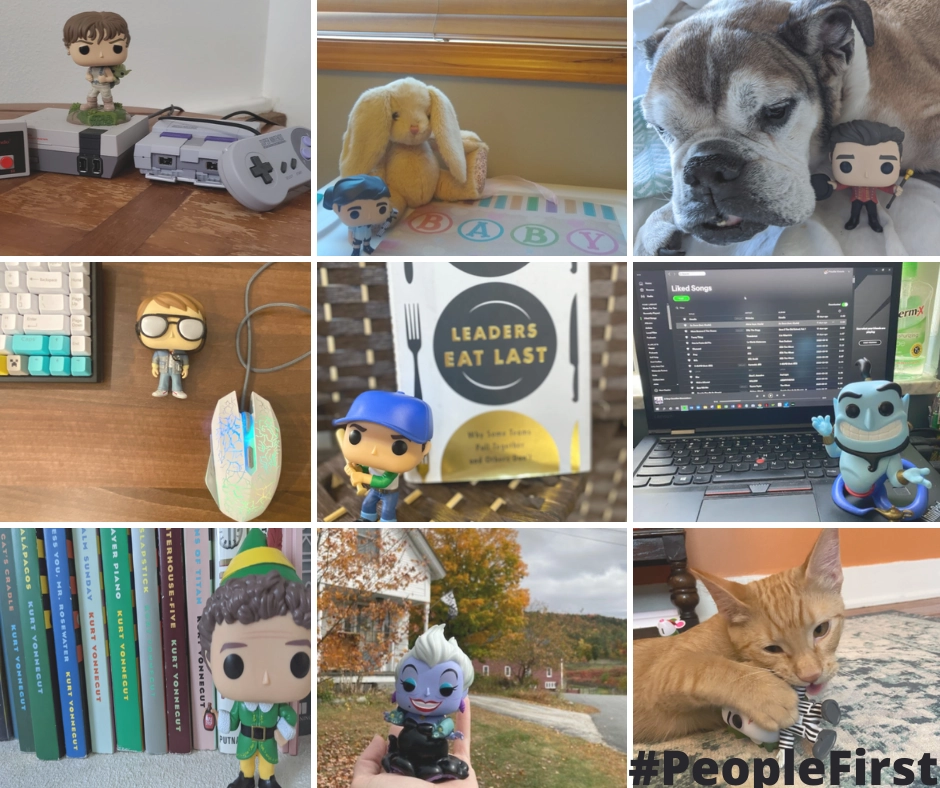 Because we don't physically work together this breaks down the walls and gives a glimpse into our lives and spaces.
We then did a gallery walk where as individuals we walked through the photos and answered What do you see? What do we think? What do we wonder? about each image. We then did a speed dating round where we had to guess which images belonged to each person and talk about what we saw, thought, and wondered about learning more about each other on a personal level.
Throughout Kurt showed us three videos that demonstrated MRI and how we have more in common with each other than we could know.
All That We Share - Connected
After two hours we ended with a final small group exercise around what we thought about MRI before the icebreaker and what we think now.
What people thought about People First before joining MKG:
People first was too general of a label
Skills were more important than values
I had to do things perfectly
People First/MKG values were performative
Company values were something on paper but that didn't really mean a ton
What they thought after:
People first brings out better work
Values are more important than skills
A company can have core ethical values and still meet bottom lines
We really do care about each other as people/coworkers/HUMANS
Everyone is always learning & that is encouraged. Everyone is always respected.
Day 2: People First In Action
Maurina Venturelli joined me on Tea Time With Tech Marketing Leaders. She brought along her leadership coach Kate Gigax and shared Maurina's journey to leading her team members by treating them as individuals and leading the whole person, which is why I had her join for Day 2. It was important to show our company how other teams' run with similar values.
Maurina Venturelli and her co-worker Shannon Miller from the Demand Gen team at SumoLogic discussed how they run their team with empathy. We had a lovely conversation around what empathy is and how it's practiced at SumoLogic and how we incorporate it here at MKG. It was important to demonstrate how People First works outside MKG and how other companies are leading their teams with this mentality and even better, how it's leading to real results.
By leading with empathy, Maurina and her team have built such trust of one another that they can complete the work of 3 teams, have work/life balance, and crush their KPIs every quarter.
At the end of the conversation I asked the team to write a headline for the conversation we just had. Here were a few examples of what people came up with:
Lead With Empathy
Lead the whole person
Empower Through Empathy
"Be the you'est of you's"
There's Crying in Business
If you're offered a ride on a rocket ship...Just get on, don't ask what seat
Day 3: Presentations & Retro
Day three was ACTION packed! So hang on to your hats.
First we had each person present a three minute presentation. They pitched what they would do if they were CEO for a day. There were amazing ideas, from new roles they'd create, to how they'd improve the process, to the structure of the organization, to pro-bono ideas, even buying an island and building a village just for the team! We certainly are looking at how to make a few of these ideas come to life.
Next we went through an exercise where we broke into small groups and reflected on the last three days. First, each person reviewed their Crystal Profiles as well as the people they were meeting with. This gave everyone a chance to level set with who they were meeting with. Then they walked through "What themes did you see?" "What do you think about those theme?" and "What do you wonder?" when it comes to the last three days.
Here are some of the themes the team identified:
Individuality being a strength
Consider the "whole person" - not just their work life
Don't make assumptions
How does peoplefirst work with our clients?
Work life balance
Greater good
Collaborate more
To close out our retrospective, we each made a commitment. Something we took away from the events that we would bring back with us and use often, if not everyday. Here were a few commitments:
MRI and not assuming things about work/other but trying to think about what's going on with someone
Check-in with my fellow MKG-ers more often
Think about other people's circumstances. Communicate to and with them.
Seek to understand, not to be right.
Make sure we implement. Execute, execute, execute on all these good things!
Recap and Next Steps
My commitment to the team was to unravel all their amazing work in these few days and create a punch list of next steps ensuring we take action on all our ideas. Here's a short list:
Add the Annual Summit Resources section of Knowledge Base
Update website with new team headshots and group images < Oh yeah, we hired photographers in each location... wait until you see these gems!
Look at the Keys to the Castle ideas and see which one or two we could implement in 2021
Unpacking.co
Also in September we had a company called Unpacking.co spend four hours with us to start our journey towards taking action towards diversity, equity and inclusion as an organization.
First Kristina played a game of vocabulary. Using a "Jackbox Games" type platform she asked multiple choice to see what words we understood and which ones we didn't. This was great in terms of giving us the right words when talking about this subject.
Next, we went through 4-5 different small group exercises. We completed each in a breakout room, then came back together and had a spokesperson talk about what was discussed.
Identified white privilege - what resonated with us, what changed vs what hasn't and what might change in the future.
We discussed trends that will grow over time, collapse, constrain and transform.
We created boards to showcase our ideal future of diversity and inclusion.
Walked through a scenario where we're faced with racism and how we'd handle it
Finally, before the event we had to fill in a board - Curiosities, Questions, Healings, and Tensions. In the final exercise in small groups we picked on comment and unpacked it stating the measurable goal and what actions we could take to bring the thought to life.
Next steps
Potentially complete the next round of training with unpacking.co
Identify holes in the training and find outside resources to support further education around diversity and inclusion
Continue to unpack the teams questions creating OKRs and Actions on a regular basis.
Looking Forward
2021 is going to be busy in starting to implement these amazing ideas.
There's still a whole quarter left in 2020 and we're not going to just wait around. We'll certainly start laying groundwork for these action items. We'll be sure to give you an update for our October View From Here. Stay tuned!
In the meantime, season 5 of Tea Time With Tech Marketing Leaders dropped. Be sure to check it out!