Overview
The sales game has shifted; old models have faded into obscurity. Success is more often achieved when representatives choose to "sell greatly" rather than to "always be closing", to nurture a relationship instead of extracting a prize.
Conversations Into Customers
The sales process takes many forms and requires different sets of actions depending on the situation. For Tom, the people who were most prosperous weren't necessarily the most technically skilled in the art of selling; instead, "they never met a stranger", they could talk to anyone and quickly form a connection. Regardless of the industry or product, the ability to make friends in any environment greatly improves the chances of closing a deal or turning a "maybe" into a repeated "yes".
It's less driven by personality and more influenced by curiosity; the goal of a conversationalist is to figure out the novel story of a potential customer. Utilizing this structure allows the representative to focus the conversation on the other person's favorite subject, themselves. As vain as that may sound, new research has shown that the brain releases dopamine when talking about oneself; much like eating good food or drinking alcohol, people garner pleasure out of talking about themselves. By showing genuine interest and finding common ground, salespeople can more effectively engage potential clients and convert them into customers at a greater rate. Authenticity is the key because 'our bs meters are well-tuned'.
If you don't exude an innate curiosity in other people, you probably shouldn't be in sales.
You Don't Know, Jack
The renaissance of the internet has increased access to information over one hundredfold. Buyers are more informed than ever and making decisions daily based on self-conducted research. The democratization of information has triggered a tectonic shift in how sales teams communicate with customers. However, as great as this seems to be, people are still making decisions based on incomplete data. As Tom notes, clients often still have questions after self-research; it is paramount that sales teams offer added value and answers to these mysteries. In addition to incomplete data, not everything is true on the internet. Whether the opinions were exaggerated or outdated, misinformation can divert a potential client and it's crucial for a sales rep to educate. If you can't show genuine interest, the client is likely to consult a third-party (i.e. Kelly Blue Book for Auto) and you lose control of the conversation.
Tom gives a disclaimer that sometimes these third-parties like awards can be manipulated through money or meeting specific criteria. Gaming the system can allow companies to charge a higher rate to the buyers who care about that sort of prestige.
I Don't Want to Sell You Today, I Want to Sell You All Your Days
Building relationships allows salespeople to not only close one deal, but to create a returning, trusted client. As other guests have also attested to, repeat business accounts for a large majority of one's pipeline; you don't have to 'climb that mountain over and over again', rather you've submitted the peak and wish to stay. A loyalty loop is a powerful tool when hoping to establish long-term patterns. Tom notes a level of transparency, used in his initial conversations, that displays his desire to work with the client for more than a singular sale. He doesn't necessarily prescribe this process for every industry but it works wonders in those that are high-involvement. Even if they don't buy a product, a 'social client' can create value and deal-flow through recommendations or networking to benefit you. Despite the current restrictions, the world can use more decency and friendships. So go! Make friends and meet new people! You never know how they can help you down the road.
This was only a high-level summary of our conversation with Tom Martin. Be sure to listen to the full episode!
Editor's Note- Thank you so much for tuning in this year! We have some exciting plans in store for Season 6, coming 2021 so be sure to subscribe. Have a wonderful and safe holiday season! -Kerry & Austin
This episode is brought to you by MKG Marketing the digital marketing agency that helps complex tech companies like cybersecurity, grow their businesses and fuel their mission through SEO, digital ads, and analytics.
Hosted by Kerry Guard, CEO co-founder MKG Marketing. Music Mix and mastering done by Austin Ellis.
If you'd like to be a guest please visit mkgmarketinginc.com to apply.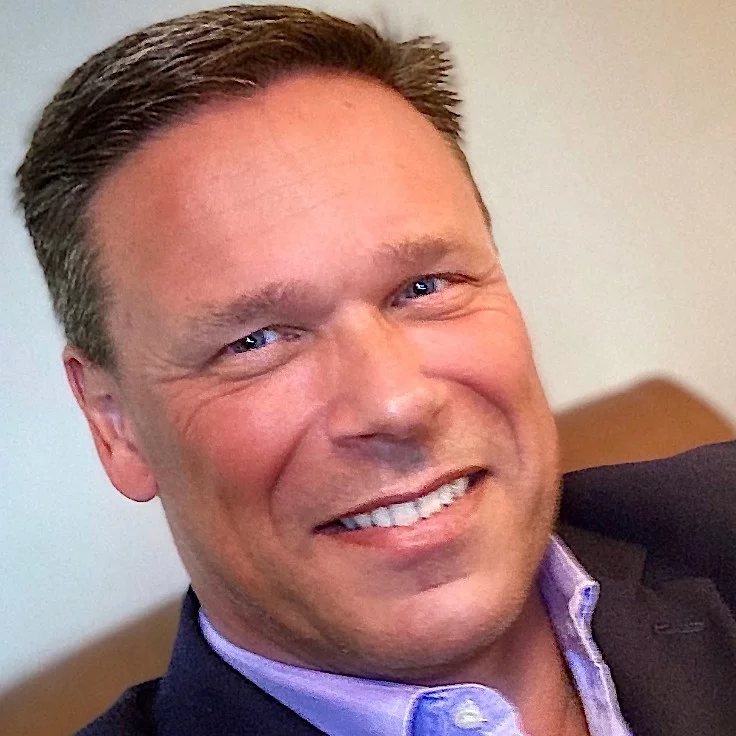 A veteran of the sales and marketing industries, Tom Martin is the Founder of Converse Digital. They aid clients in boosting sales conversions and managing customer relationships.